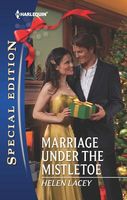 Series: Crystal Point (Book 2)
Strong. Sensible. Dependable. That was Evie Dunn's type. Certainly not young, fearless gorgeous firefighter Scott Jones. She knew the wisest course was to keep her distance, but she couldn't resist the allure of a holiday fling. Now the widowed single mom found herself with an unexpected post-Christmas gift -- she was having Scott's baby!
Scott came to Crystal Point to see his sister tie the knot, not fall for the alluring owner of the town's oceanfront B and B. He knew he was all wrong for Evie, but he would do anything to win her heart and build the family he'd always wanted. All he had to do was persuade Evie to take the biggest risk of her life…on love.
Good book. I liked both Evie and Scott. Evie has led a pretty quiet life since her husband's death ten years ago. She doesn't date, just runs her B & B and takes care of her son. She is the one everyone goes to for help. When she met her new sister-in-law's younger brother she didn't expect to be attracted to him. She felt it was terribly inappropriate, given his status as a member of the family and the fact that he is nine years younger than she is. He is also a firefighter like her late husband was. She is afraid to get involved with anyone who has such a risky job, having already lost one loved one. She finally gave in to the attraction, planning to indulge in a short affair before he went back to LA. What she didn't expect was to fall in love with him. When she discovered she was pregnant she really didn't expect for him to propose marriage, but she was still too afraid to accept. I really liked Scott. He had lost his best friend in a fire a few months earlier and had made the decision that as long as he was a firefighter he would not have any serious relationships. His immediate attraction to Evie worried him because it was stronger than anything he'd ever felt before. He also discovered that he really liked spending time with her and her son. As they gave in to their physical attraction he found that he was thinking more and more about something permanent with her. After he went back to LA he felt that the life he had there was pretty empty. When he found out she was pregnant he rushed back to Australia. He had realized that he was in love with Evie and tried to convince her to marry him, but nothing he did could get past her fear. I really loved seeing h

ow intense his feelings were for her.

I loved the way everything came together at the end. The age difference wasn't as big a deal as she thought it would be, and she finally accepted his choice of a career.