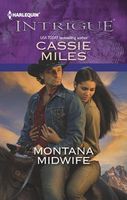 Series: Midwife (Book 4)
BIG COUNTRY. BIG SKY. BIG TROUBLE IN MONTANA.
Rushing to the aid of a pregnant woman, midwife Tab Willows arrives at the grisly scene of a murder. Then sexy Aiden Gabriel lands his rescue chopper and Tab comes face-to-face with her secret teenage crush-and he's gotten only better with age.
Aiden had been unaware that Tab was back in town...and more stunning than ever. The half-Crow beauty has always been a mystery, but she can't hide her fear upon learning a serial killer is loose in the mountains of Montana. Insisting she move to his ranch while the investigation intensifies, Aiden suddenly finds his home isn't big enough. He could swear protecting her was why he wanted her by his side. Now imagining a life without her is why he wants her to stay.
Good book. Tab is working with Aiden's sister as her midwife when she comes onto the scene of a murder. She calls Aiden to bring his chopper so they can get Misty away from there. She'd had quite a crush on him as a teenager and it doesn't seem to have gone away. As they work together to find out who is killing young women they grow closer. I really liked both Aiden and Tab. Tab works as a midwife in her community and has become a beautiful woman. She likes what she does. Throughout the entire book she maintains a calm and steady state of mind. I liked the way she was able to think things through to help with the investigation. Her feelings for Aiden grow steadily. She is able to maintain her independence when he tries to overrule her participation without being obnoxious about it. Aiden is a great hero. He is strong enough to do what needs to be done without being arrogant and overbearing about it. He appreciates Tab's intelligence as well as her beauty. It didn't take him long to realize that he wanted to keep Tab in his life forever. Their romance was a good steady one with excellent attraction and no bad drama between them. The mystery was pretty good, too, though I did have a pretty good suspicion of who the bad guy was.