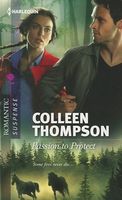 She loved him once--can he be trusted now?
Hotshot wilderness firefighter Jake Whitaker had been lucky to escape a massive blaze with his life. Now, with a body as scarred as his heart, the last thing he needs--much less wants--is to see his first love walk back into his life.
With her abusive marriage behind her, Liane Mason brought her children home to Wolf River Lodge in a search for peace...a peace she can maintain only by keeping a cool distance from Jake. But when her children become hostages in a murderous plan, Jake is the only one she can turn to. And while love may never die, a passionate hatred can kill. In a battle of love versus vengeance, which side will win?
Good book. Liane and her kids were back as she recovers from her disastrous marriage. The book opens as her ex-husband breaks out of prison and with three other escapees comes looking for the stolen money he hid. Liane's dad and her two kids have been on a camping trip and are late coming back and forest fires have been spotted. As she heads out to search for them she is joined by ex-boyfriend Jake. There was a lot of suspense while the search for the kids happened. After they are all rescued there is more as they look for the money and evade the bad guys. I liked both Jake and Liane. Liane is still trying to get back the trust in people that she had before her marriage. She also feels guilty about the way she left Jake when they were younger, so she tends to avoid him when she can. She has to depend on his expertise as they search for her family in the fire, and her trust in him starts to come back. There is still a strong attraction between them that makes her nervous. I liked the way that she was able to work on her own rescues at the end. Jake was great too. After recovering from severe injuries the year before he is trying to get back in shape for firefighting. He still feels a strong attraction for Liane, but can't get her to spend any time with him. I loved the way that he was so determined to make it through the forest fire. He did a wonderful job overcoming his handicap to help their escape. I also liked the way he protected Liane and the kids from the escapees and how he wanted to comfort Liane afterward. He was also wanted to shield Liane from the money search later on. I love the way he is so patient with her and good with the kids. I really liked their solution for the ranch and their lives at the end of the book.