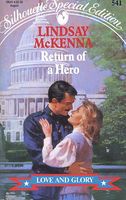 Series: Love and Glory (Book 3)
Marine captain Morgan Trayhern couldn't risk staying in the States, yet he didn't dare leave. Fragile, gutsy Laura Bennett had been injured saving his worthless skin, and a Trayhern never dodged duty. Despite the danger, he had to protect his sweet guardian angel. To his surprise, Laura's bulldog stubbornness matched his own, and her love implored him to unearth what he thought he'd forever buried on that bloody hill seven years ago. But once he faced his entire past, could he ever count on a future?
Very good book. It has been years since I read Morgan's story and I enjoyed refreshing my memory of it. Morgan had been called back to the US by one of the men responsible for him being declared a traitor. On his way back to the airport his life was saved by Laura, who was injured in the accident. Morgan felt a responsibility to take care of her until she was better. He was able to conceal his identity from her for awhile, but eventually told her who he was and the truth of his story. Their attraction was strong and their time together increased their feelings for each other. Laura was determined to get to the truth behind Morgan's story and clear his name. I've always loved Morgan and Laura throughout the Morgan's Mercenaries series. Morgan has a strong sense of honor and commitment and won't leave Laura until she is better. He is impressed by her strength and intelligence as well as her beauty. When she insists that they have a chance to clear his name he is determined to do so. He is also a sensitive and caring man and his growing love for Laura shows in everything he does for her and the protectiveness he shows when they are in New York. I also loved the way that his love for his family is shown during his visit to them. Laura is the perfect woman for Morgan. She is incredibly intelligent which shows in the job she does. This and her connections come in very handy when she starts her research into what really happened to Morgan. I love the way that she is able to stand up to him when she needs to. I really liked the way she was the one to come up with the idea to speed up the investigation. I loved the final showdown.