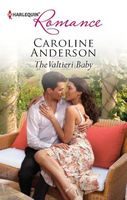 Wedding planner Anita della Rossa is an expert in arranging happy-ever-afters -- except her own, that is. Five years ago her childhood sweetheart Giovanni Valtieri ended their relationship abruptly, keeping his reasons as secret as the love he still feels for Anita.
When Gio and Anita find themselves alone in a Tuscan hideaway, familiar passion rises to the surface once more. Gio is still struggling to open his heart…but with Anita's baby bombshell ringing in his ears can this brooding Italian finally make all Anita's dreams come true?
Very good book. When Gio is injured Anita takes him to her home to care for him until he can manage on his own. They have been friends all their lives, until their brief affair five years earlier. When Gio broke it off suddenly and with no explanation she was devastated. She still loves him and while they are together in her home their passions take over once more. When Anita finds she is pregnant Gio wants to marry her, but she refuses. So he moves in with her to care for her, all the while refusing to admit his love or tell her why he broke things off. I liked both Gio and Anita. Anita had been in love with Gio for most of her life. She knew that there was a reason Gio had left her and that something had caused the misery she often saw in his eyes. She couldn't resist him once again, but refused to marry him when she became pregnant. She didn't want to marry a man who didn't love her, even though she was sure he did. Without him being able to admit it, or let her fully into his life, she saw no hope for a happy marriage. She allowed him to move in with her and take care of her in hopes of finally being able to reach him. Gio was a man with a secret tragedy in his life. This caused him to be sure that he would never be able to be a successful family man so he refused to even try. His passion for Anita had never gone away and they gave in to it once again. When she became pregnant he was terrified that something would happen to her so he moved in with her when she refused to marry him. When he was finally able to tell her why he was so unhappy she was able to show him that he had nothing to worry about with her. Then she convinced him to try to open himself up to love. Her patience and understanding was wonderful. I loved the conclusion and how Gio finally saw the light.