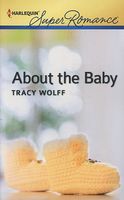 After this, nothing is the same!
Kara Steward and Lucas Montgomery have always been the best of friends. As doctors, they're too busy saving the world to commit to anything more. Still, Kara knows exactly who to go to when she needs a little support. But one night she turns to Lucas and…everything changes. And once they've crossed that line to more than friends, it's impossible to go back.
Their situation is even more tangled when Kara's job calls her away for several weeks. How can they talk about the new "them" when she's half a world away? She can't put off this discussion too long, however. Not after she discovers there's a baby to consider….
Very good book. Kara and Lucas have been friends for seventeen years. When Kara comes back from one of her overseas jobs she is feeling burned out and goes to Lucas for some downtime and support. But that support morphs into passion and then she's called away again. While she's away she gets very sick and then discovers that she's pregnant. She comes back to Atlanta to recover and tell Lucas about the baby. He is flabbergasted by the news, but also very worried about Kara's health. I really liked both Kara and Lucas. He is a terrific doctor who works with the poor of Atlanta. He also takes care of his mother and sisters who are terribly flighty and irresponsible. He is worried about how his relationship with Kara will change now, but quickly realizes that she has always been the person that has grounded him. When he accepts the fact that he loves her he knows he has to convince her that he doesn't see her as just another responsibility. Kara has always been very independent. She is always there for Lucas, but never asks him for help. Because of her past she has never been able to trust that someone will be there for her whenever needed, so she refuses to lean on anyone, even Lucas. When she tells him about the baby she wants to maintain her independence and not be a burden he has to bear. She finally admits to herself that she loves him, but doesn't know what to do about it. I loved seeing them finally come together. I would like to know what happens when the baby is born and if it is healthy, and also what happens with Lucas's sister.