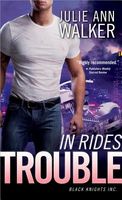 Series: Black Knights Inc (Book 2)
Rebel with a Cause
Becky "Rebel" Reichert never actually goes looking for trouble. It just has a tendency to find her. Like the day Frank Knight showed up at her door, wanting to use her motorcycle shop as a cover for his elite special ops team. But Becky prides herself on being able to hang with the big boys-she can weld, drive, and shoot just as well as any of them.
Man with a Mission
Munitions, missiles, and mayhem are Frank's way of life. The last thing the ex-SEAL wants is for one brash blonde to come within fifty feet of anything that goes boom. Yet it's just his rotten luck when she ends up in a hostage situation at sea. Come hell or high water, he will get her back-whether she says she needs him or not.
Very good book. Frank and Becky have been striking sparks off each other for three years, ever since Frank started using the motorcycle shop as the unit's cover. Becky is a very good mechanic and has learned a lot of the things that the rest of the unit knows. She wants to be part of the team, not just the cover. Frank doesn't want Becky anywhere near the dangerous parts. When she has enough of his attitude, she takes a vacation with a friend and ends up captured by Somali pirates. There's a rescue, dealing with the aftermath, the reappearance of one of the pirates, and misunderstandings to overcome. Great tension, good suspense, and excellent romance. I really liked both Frank and Becky. Frank is older by thirteen years and feels the age difference is too much for him to have a relationship with Becky. This is mostly because of issues from his childhood that are explained later in the book. He knows he is attracted to her, but does his best to overcome it. When it looks like she is getting over him and falling for one of the other guys he is eaten up with jealousy. It takes his sister basically slapping him upside the head to get him to see what he's been doing. I loved the final scene with him and Becky. I loved Becky's independence and ability to go after what she wants. She does a great job of pushing Frank's buttons, getting reactions from him. She also seems to be a magnet for trouble, hence the problem with the pirates. Thanks to her time with the Knights, she does a great job of keeping her head and keeping herself and her friend alive. She also knows that the team will rescue them, she just has to be patient. She recognizes the sound of a recon drone overhead and uses the notebook she's writing a "book" in to write messages to the team that the drone's imaging picks up and transmits. You can see her patience wearing thin in the
last message picked up which said "…would you guys hurry the hell up already?"After they are back in Chicago she has to deal with the aftermath, which Frank is able to help her with. But she also has to accept the fact that it seems that he will never return her feelings. She misunderstands a couple things she sees which causes her some anguish. Her self reliance comes out though when she is kidnapped and rescues herself thanks to some good advice from Frank. I loved the care he took of her after that rescue. The ending had a good setup for the next book.