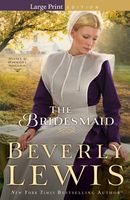 Series: Home to Hickory Hollow (Book 2)
Twenty-seven-year-old Joanna Kurtz has made several trips to the altar, but never as a bride. The single young Amishwoman is a closet writer with a longing to be published--something practically unheard of in her Lancaster County community. Yet Joanna's stories aren't her only secret. She also has a beau who is courting her from afar, unbeknownst even to her sister, Cora, who, though younger, seems to have suitors to spare.
Eben Troyer is a responsible young Amishman who hopes to make Joanna Kurtz his bride--if he can ever leave his parents' farm in Shipshewana, Indiana. Yet with his only brother off in the English world, intent on a military career, Eben's hopes for building a life with his dear Joanna are dimming, and patience is wearing thin. Will Joanna ever be more than a bridesmaid?
Good book. Joanna has just about given up on ever getting married. While in Virginia at a family funeral she meets Eben, a young Amish man from Indiana. They hit it off right away and start writing letters to each other. He makes a short trip to Pennsylvania to see her and express his interest in courting her. There is a problem in that he is currently stuck in Indiana helping his father while waiting to see if his younger brother will give up the English world and come home. They continue their letters and phone calls until Eben finds out his brother has no intention of returning, at which point Eben reluctantly breaks things off with Joanna. Neither one is able to forget the other, though each attempts to move on with their lives. I liked both Joanna and Eben. Eben is caught between a rock and a hard place. He loves Joanna and wants to marry her. His greatest wish is to move to Pennsylvania to be with her, but he can't abandon his father. I felt really bad for him, though I think he would have done better to sit his father down and explain his wishes to him. Perhaps the resolution would have happened quicker that way. I found it odd that with all the letter writing they did, they apparently never compared their lives. I did find Eben to be a very sweet guy who really did love Joanna. I also liked the way he supported her writing. I liked Joanna also. She knew the saying about being a bridesmaid but never a bride and didn't let it stop her from celebrating with her friends. I loved the way she liked to write and the way her abilities added to the letters she wrote to Eben. She too was a good person, always helping others. She kept her writing secret, knowing that it was frowned on but feeling that it wasn't hurting anyone. She seemed to lack the confidence that the relationship between her and Eben would work out, and seemed to give up rather easily. I did like the way that the story of her great aunt's quilt finally gave her the courage to go after what she wanted. I liked most of the secondary characters except for Joanna's sister Cora. I thought she was an immature brat who was jealous of Joanna's good fortune. When she stole Joanna's notebook and gave it to the preacher I was furious with her. I couldn't believe she would be that nasty to her own sister. She seemed to grow up a little by the end of the book, but it would be a long time before I would ever trust her again. In the first book, Ella Mae the wise woman, was great. I didn't like her as well in this book, since she seemed to be telling Joanna that her relationship with Eben would not work. Overall, I did like the book and I look forward to the next one.