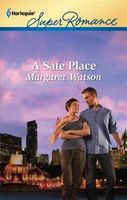 Cal Stewart has it all. Tall, blond and built, the football star is a smooth-talking charmer. But there's one situation he can't talk himself out of -- and now he's stuck doing community service at Frankie Devereux's after-school center for troubled teens.
Six weeks and he's out of there. End of story. Except, from the start, Frankie gets under his skin. She's tough and vulnerable, passionate and guarded all at the same time. She makes Cal want to unravel her. Protect her with everything he's got. But he's no shining knight. What he should do is focus on his career and forget all about her. Too bad that's easier said than done.
I loved this book. Cal goes into his community service with one goal - find a way to get out of it and get back to preparing for the upcoming football season. He didn't expect to be attracted to Frankie and want to get to know her better. And he sure didn't expect to be drawn into the lives of the teenagers at the center. I really liked both Cal and Frankie. Cal was irritating at first. He went into his community service planning to buy his way out of it. All he was interested in was trying to get his knee back in shape so he can play again. She wouldn't do it, and he was stuck doing the service or going to jail. He started out not trusting any of the kids, but soon found himself getting interested in their stories and their lives. He also found himself more interested in Frankie herself and noticing that there was more to her than the tough exterior. I liked the way he got involved with the center and the kids and the way he tried to protect Frankie. His tunnel vision about his career almost lost her, but he saw the light in time. Frankie had her own issues to deal with, but I loved the work she did with the kids. Because of her own past she had a great way of being able to relate to the teens she worked with. She really didn't like him at first because of his attitude and would have loved to refuse to work with him but couldn't. She did have an obsessive deal with rules, but that went back to her problems as a teen. I really liked the way that she stood up to the Child Services guy. She had a lot of courage to do what she did. I also liked the fact that she stood up for herself to Cal also. I loved the ending and the way that Cal finally came to understand himself.