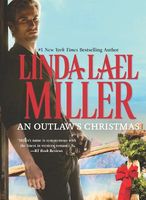 Series: McKettricks (Book 15)
With his wild heart, Sawyer McKettrick isn't ready to settle down on the Triple M family ranch in Arizona. So he heads to Blue River, Texas, to seek a job as marshal. But in a blinding snowstorm he's injured -- and collapses into the arms of a prim and proper lady in calico.
The shirtless, bandaged stranger recuperating in teacher Piper St. James's room behind the schoolhouse says he's a McKettrick, but he looks like an outlaw. As they wait out the storm, the handsome loner has Piper remembering long-ago dreams of marriage and motherhood. But for how long is Sawyer willing to call Blue River home?
As the gray skies clear, Piper's one holiday wish just might bring two lonely hearts together forever.
Very good book - of course, it's a McKettrick story. Sawyer has come to Blue River to take over as marshal from his cousin Clay. Before he can do that he's shot and left for dead. Piper finds him and takes him to her room at the schoolhouse. He's hurt too badly to be moved and must recover there. This does Piper's reputation no good, so they marry to make it all respectable. I really liked both Piper and Sawyer. Piper is from the East, and a bit nervous about being in the "wild west". She comes off as rather timid at first, worried about Sawyer being an outlaw, even though he says he's a McKettrick and Clay's cousin. Once she accepts the fact that he's there to stay, her natural practicality and sass comes out. I like the way she stands up to him when she needs to, but also takes care of him. She is surprised by his offer of marriage, but realizes that she wants to marry him. I love her natural kindness to one of the little girls at her school and the girl's mother, the local madam. I thought the part where she went to the brothel when the girl was sick was terrific and loved the way she stood up to everyone. She fell for Sawyer pretty quickly, but they seemed to complement each other very well. Sawyer seemed pretty laid back for a McKettrick. In spite of his injury he was very courteous to Piper, not at all arrogant. He found her worry about him being an outlaw amusing, and enjoyed her spunkiness when it came out. His decision to marry her to save her reputation surprisingly didn't scare him. In fact, he found the idea appealing. He also gave her fair warning that he intended to seduce her. I really enjoyed the way he backed her up over the little girl's care. The ending at the ranch in Arizona, with all the family there, was very good.