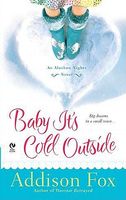 Series: Alaskan Nights (Book 1)
After a frantic call, Sloan McKinley travels to the heart of the Alaskan wilderness to be there for her best friend, who's just inherited property in the small town of Indigo. The last thing she expects is to be lured by the town's matriarchs into their annual contest to get their grandsons married off.
But Sloan can't deny the appeal of the rugged local men-Walker Montgomery in particular. Soon she finds herself falling in love with the wild outdoors...and with one of Indigo's most beloved residents. There's just one question that remains: is the town's most confirmed bachelor ready to get caught?
What a fun book. I really like romances that take place in Alaska (something about long cold nights and rugged men) and this was one of the best ones I've read. Sloan got a call from her friend Grier and headed up to Alaska for some moral support. Pretty soon she found herself involved in the local bachelor contest while writing an article about it. She was especially interested in Walker, who was interested in her on a purely temporary basis - or so he thought. Sloan was a very independent modern woman who was being driven nuts by her mother. Mom is determined to marry her off and keeps throwing different men her way. When Grier called Sloan was only too happy to head for Alaska. When she gets there she jumps right in to helping Grier deal with a hostile half-sister and seemingly unwelcoming town. She also finds herself attracted to hot bachelor Walker, but sees no sense in getting involved since she won't be in town for long. But they really strike sparks off each other and bait each other into participating in the grandmothers' contest. Sloan discovers that Alaska isn't what she expected and finds her attitudes changing. She falls in love with the town, but still expects to leave when she is done writing her article. She also falls in love with Walker but can't seem to get him to see the possibilities. Walker is a good looking guy who is a confirmed bachelor. He doesn't believe in love and happily-ever-after thanks to his father's philandering. He does care about his grandmother in spite of her matchmaking attempts. He is immediately attracted to Sloan, but knows she'll be leaving to tries to avoid starting anything. But with Alaska's woman shortage there are a lot of men in town who are very interested in her too and he soon finds himself unwillingly jealous. He keeps trying to convince himself that he's just having a fling with her, but soon has to admit his feelings to himself. He very nearly loses her, but has a fantastic "go big or go home" moment at the end. Besides Sloan and Walker, there is a town full of fantastic other characters. Most notable are his two friends and fellow bachelors Mick and Roman, who will star in the next two stories. Sloan's friend Grier has her own troubles that Sloan tries to help her with, and they make friends with local woman Avery. There are some wonderfully funny times, including a townwide snowball fight. Sloan's interviews with townspeople and bachelorettes highlight some of the best things about the town and help open her eyes to the possibilities. There are also some very heartfelt moments when the ladies and men are dealing with their issues. I can't wait to read Grier and Mick's story.