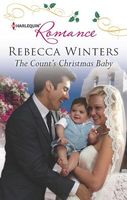 The hours that Sami Argyle spent in the arms of Italian stranger Ric Degenoli were the most amazing of her life. Until tragedy ripped him from her embrace, leaving her grieving and expecting his child….
Ric is thrilled to discover he's a father -- the perfect Christmas present! But he has news for Sami, too: he's now a Count…and locked into a convenient, loveless engagement.
Against the odds, can Sami and Ric become a family -- in time for Christmas?
Very good book. Ric and Sami met when they were trapped together in an avalanche. Caught together in the dark, not sure if they would live, they gave in to passion. When Ric was struck in the head and Sami couldn't find a pulse, she grieved his death. When she found herself pregnant with his child, she was thrilled and determined to go to Italy and find his family so they could meet the baby. She was stunned to find out that he was alive. He was also thrilled to find out that he was a father and took to it right away. The attraction is still there, but he is engaged to another woman and is also a Count. Now they have to find a way to deal with their new reality. I really liked both Ric and Sami. I loved the way she was so determined to find Ric's father so that he could get to know his grandson. She knew she was taking a risk but felt it was the right thing to do. When she discovered that Ric was alive, she couldn't believe it. She was very happy to see how quickly he fell in love with his son and how good he was with the baby. She agreed to go to Cyprus with him so that he could get to know the baby. She also knew that he had to find a way to tell his fiancee. She hurt for him when his fiancee was less than accepting. As they spent more time together getting to know each other she fell more in love with him, though she knew nothing could come of it. Ric had spent months looking for Sami after the avalanche. He finally gave up and contracted an arranged marriage to save his family's business. When she showed up and he learned about his son he was amazed. His heart was stolen by the baby immediately and he couldn't bear to let him out of his sight. He convinced Sami to go with him so they could spend time together. He wasn't looking forward to dealing with his fiancee, as he was sure she wouldn't take the news well. He also knew she wouldn't be happy that he was giving up his title forever. I loved the way that he was so hands on with the baby and the way that he was so intent on making sure that Sami and the baby stayed close no matter what happened. When the whole story of the engagement came out, it was interesting to see how he was going to deal with it. I loved the ending of course - a perfect fairytale. I also really liked Ric's brother and sister.