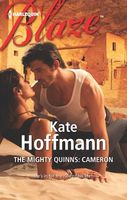 Series: The Mighty Quinns (Book 20)
Will she change his world…or rock it? Yacht designer Cameron Quinn knows life can shift in a moment. But when he accepts his grandfather's quest -- six weeks to start over from scratch -- he certainly isn't expecting to be stranded in a dusty town in New Mexico. The upside? He's found himself working for a stunning private investigator…and the heat between them is hotter than the desert!
As far as P.I. Sofie Reyes is concerned, Cam's desperation is her salvation. She needs all the help she can get with the case she's working on. And despite the serious chemistry between them, romance is definitely not on Sofie's agenda. But with six weeks of Cam all to herself, there's nothing wrong with getting a little naughty… All she has to do is figure out how to keep this drop-dead-sexy man in her bed -- and out of her life!
Very good book. It is Cam's turn to go out and spend six weeks deciding what he wants from his life. When he arrives in Vulture Creek it is imperative that he find a job. When gorgeous PI Sofie offers him a job with her, he takes it. I really liked both Cam and Sofie. Cam has kept tight control on his emotions ever since his parents' deaths when he was a boy. He has spent his entire adult life working for the family business and not doing much else. He is immediately attracted to Sofie and welcomes the chance to work with her. During the time they spend together their attraction grows. He also discovers that he likes the area and enjoys the new things he is being exposed to through Sofie. I loved seeing his interactions with her brothers and the rest of the family. I also loved seeing him realize how much Sofie has come to mean to him and how far he is willing to go to make sure she is happy. Sofie is working as a PI until she recovers from injuries she received on the job as a police officer. She is bitter about her lack of progress and feels the loss of her identity as she sees it. She is very attracted to Cam and wants to pursue the attraction but doesn't feel that there is a chance of any future in it. She and Cam have some pretty deep conversations about needs and their views of their lives and so on. I loved the way that she did the same thing he had done and took six weeks to go find her own future. The conclusion was great and now I can't wait for Ronan's story and to see how the series winds up.