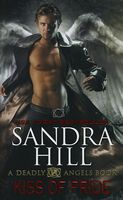 Series: Deadly Angels (Book 1)
Some men are too bad to be true . . .
Is he really a Viking with a vampire's bite? An angel with the body of a thunder god? A lone wolf with love on his mind? Alexandra Kelly, his prey, thinks Vikar Sigurdsson is either flat-out crazy or he's trying to maneuver her into his bed -- which is hardly where a professional reporter should conduct an interview, tempting as that prospect might be.
And some men are too good to be true . . .
Until Vikar does something a teensy bit unexpected, and Alex begins to wonder whether her mystery man could really be everything he says he is: a Viking Vampire Angel on a thousand-year-long mission with his pack of sinful brothers -- and a man who's finally found the woman of his dreams. By then, Vikar is already wrapping his chiseled arms around Alex's body . . . and sinking his wicked fangs right into her neck. If this is sin, why does it feel so good?
This is a really fun book. Vikar and his brothers were Vikings sentenced by God to become vampire angels and to go about trying to save lost souls from the demon vampires sent by Lucifer. Each of the brothers was guilty of one of the seven deadly sins - Vikar's was pride. He has been a vain man and is still trying to fight that sin. When Alex shows up to interview him he wants nothing to do with her, until he discovers that she is contemplating a mortal sin and he needs to save her. He is also incredibly attracted to her, but as a vangel is not permitted to have sex, so he needs to resist her. In order to save her he basically keeps her at the castle as he works to convince her of her peril and cleanse her of her sin. Alex starts out thinking he's either crazy, part of a cult, or on some kind of reality show. She starts to be convinced as more things start to happen. As the story goes on there is a battle coming between the vangels and the demons. I really liked both Alex and Vikar. He is a Viking like Sandra Hill's other Vikings - sexy, arrogant, and ready for any kind of action. But he is also basically a good guy after a thousand years of good works. He wants to save Alex and is willing to do what is necessary to do so. He takes good care of the people around him. And he is trying to follow the rules set by Archangel Michael, but finds it especially difficult the more he gets to know Alex. Meanwhile Alex is a trip. She comes to do the interview which gets her out of DC during the trial of the men who killed her husband and daughter. She is contemplating murdering them if they aren't convicted. When Vikar keeps her close to cleanse her of the sin and save her soul she is furious. But then she starts to get to know him and his brothers and the danger that stalks them all. I loved the way that she started to change as the cleansing went on. Her attraction to Vikar is strong and then starts to develop into stronger feelings. She knows nothing will come of it, but decides to accept what she is given and tries to be content with that. I loved the interaction between Alex and Vikar. She is not a meek person and gives as good as she gets when he gets all Viking on her. I love the way that she stands up to him, but also that she is supportive and helpful when he needs her. The "near-sex" scenes are hot and fun, with Alex surprising Vikar a few times. I wondered at times how they would get their happy ending, and Sandra Hill came through wonderfully with that. There are some great scenes with the brothers and the teasing that goes on among them, but also with the way they are there to help and support each other. I also loved Archangel Michael - he has got some great lines. I'm really looking forward to the rest of the series.