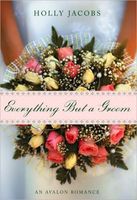 Series: Everything But (Book 1)
Every Hungarian grandma knows that words have power. Nana Salo never meant the words she said in anger to become a family curse, but that's just what happened. Her granddaughter Vancy is just the newest victim. Vancy's fiance has left her at the altar, and now the press is after a hot grandma-curses-granddaughter's-wedding story. Vancy doesn't believe in the Salo Family Wedding Curse, but when her groom ditches her and the press is hot on her heels, she's not quite so sure anymore. She's hiding out with Matt Wilde, owner of the Everything Wilde landscaping business, helping out with his two newly-inherited nephews as she figures out what to do. Matt doesn't believe in curses either, but he seems cursed with thoughts of Vancy Salo that he just can't seem to shake. A hoard of reporters, a guilty grandma, a gaggle of other family members, and two four-year-olds prone to stealing hearts and wreaking havoc: it's not exactly a classic situation for falling in love...but that's just what may be happening for Vancy and Matt.
Fun book. I've already read books three and four of the series since I found them first. I've been looking for the first two for at least a couple years and finally got them. I loved the storyline. Vancy's grandmother is a good Hungarian who, in a fit of temper, managed to curse her own family. Now she's trying to undo it, but things aren't going her way. When Vancy's groom stands her up at the altar and the press gets involved, Vancy needs to get away. Matt has been blindsided by the arrival of two nephews he didn't know he had. So Vancy offers to help him in exchanged for hiding out at his place. I loved all the characters in this book. Matt knew nothing about his nephews but fell in love with them as soon as he saw them and was determined to take good care of them. He was thrilled that Vancy agreed to help him and found himself in awe at her abilities. Until the boys and Vancy happened to him he hadn't realized just how empty his life had been. It didn't take long for him to feel like Vancy belonged with him forever, but he was afraid it was too soon after her aborted wedding. I liked the way that they became friends first. I also liked the way that he made sure that the boys knew that he loved them and would always have him in their lives. Vancy was awesome too. I liked the way she realized quickly that she'd had a close call with her almost wedding. She knew pretty quickly afterwards that she hadn't really loved Al the way she should have. I really enjoyed seeing her with the boys and how much she came to love them. I loved some of the things that she had to cope with, like the whole volcano thing. She had a wonderful way of relating to them. She also had a great relationship with her family. I enjoyed seeing her try to explain them to Matt, and then the way she dealt with them when they all came to dinner at Matt's house. She fell for Matt pretty quickly and realized that what she felt for him was completely different than what she had felt for Al. The secondary characters were great too.
Nana is inundated with guilt and trying to fix the curse. She also can't really help interfering, but she's so much fun nobody seems to mind. Matt's dad and stepmother were great, and her dealing with the reporters was hysterical. I also loved the whole dinner scene with the whole family.