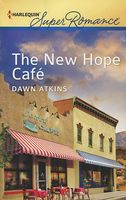 Welcome to New Hope, AZ
New Hope? Not from where Cara Price is standing. Miles from her destination, a car that won't run and a daughter she can protect only by moving, lingering in this town is not on Cara's plan. And the harder she pushes to leave, the more things conspire to prevent that. There's the slow mechanic…there's the café in need of a waitress…there's its owner in need of a friend….
There's also the very tempting Jonah Gold. Cara's plan is all about survival with no room for romance. Yet, Jonah's charm and the easy way they work together has her wanting to make space for him. The promise of what they share is so different from the life she's escaping. Maybe this café, this town and Jonah are all the hope she needs!
Good book. Cara was on the run with her daughter. Her ex-husband was scheduled to get out of prison for attacking her and she knew he would come after her. When her car died in New Hope she was stuck until it could be repaired. The cafe owner talked her into working there until her car was repaired. She soon found herself feeling at home there, with a job she was enjoying and people who seemed to care about her and her daughter. She was also drawn to Jonah, cook and furniture builder. I liked both Jonah and Cara. She was desperate to keep her daughter safe and felt the only way to do it was to keep moving. She was headed for a crisis center in Phoenix when her car died. I liked the way she jumped in to help at the cafe when the were shorthanded. She accepted the job offer when it became obvious she needed the work. I enjoyed seeing her happiness in the work she was doing and the way it helped bring back her self confidence. I liked the banter between her and Jonah and the chemistry between them. She was understandably very skittish, but Jonah made her feel safe. Her past made her very wary of depending on anyone else and she clung to her independence. I loved the way that she tried so hard to take care of other people, especially the way she helped Rosie. I liked the way that she admitted to her feelings for Jonah, but felt that she should have worked harder to work things out with him. His confidence in her did help her at the end and that was a good thing. Jonah had his own demons to vanquish. His father had been an alcoholic with a short temper and Jonah felt that he was a bad bet. He had tried marriage once and it hadn't worked out, so had decided that he wouldn't try again. He was a very caring man though which showed in the way he tried to help his brother. He tended to be rather intense in his care, which irritated his brother. Jonah's time with Cara showed him how to let go which helped his relationship with his brother. I also loved the way that Jonah made time for Cara's daughter which gave her the outlet she needed for some of her problems. I didn't like the way he minimized the danger Cara tried to make him see, but he came through in the end. The story was good, though it did drag a little at times.