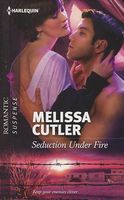 Sworn enemies, too close for comfort
What's worse? Being held hostage by a Mexican drug cartel or being held hostage by that cartel with the one man you passionately hate? Camille Fisher, a brainy, tough-as-they-come cop, can't believe she's daring to escape with her too-hot nemesis, Aaron Montgomery. But once she outsmarts their brutal captors, the danger's just beginning.
Racing across the Mexican desert, Camille begins to glimpse the surprisingly decent man behind the boorish cad. With cartel hit men closing in, she tries hard to ignore her needful heart -- and harder to resist the temptation threatening to do them both in….
Very good book. Camille and Aaron have been at each other's throats for two years. She considers him to be a too charming, always gets what he wants waste and he thinks she's an uptight pain in the butt. When they get kidnapped by a Mexican cartel it's up to them to save themselves. I loved both Camille and Aaron. I could tell that those sparks that were flying weren't just about dislike, they were about an attraction that neither wanted to admit. I loved the description of when they first met and how Aaron tried to put his usual moves on her and she shot him down. I enjoyed seeing the way that Camille was the one that engineered their escape from captivity. She has incredible ingenuity and strength of will to be able to do the things she does. Her biggest problem is her inability to believe that Aaron is actually interested in her the way she is. I really enjoyed seeing her as she started to open up to Aaron and when she finally admitted to herself that she loved him. Aaron was a pretty cool character too. At first I could see the lighthearted playboy in him. He seems to really enjoy jerking her chain. I loved the way that he was so surprised at the way that she got them out of the place they were being held, and also that he freely admitted that she was the one who did it. I also liked the way he watched out for her and tried to take care of her when she needed it. He came to realize that her independence hid her insecurities and he did his best to help her overcome those. When they finally gave in to their attraction the passion between them was really intense. I really enjoyed the ending and the way that they surprised everyone. I'd love to know what Camille ends up doing.