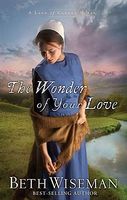 Series: Land of Canaan (Book 2)
Katie Ann lost the love of her life. Then God offers her a new beginning in Colorado. Katie Ann Stolzfus lives in the small Amish community of Canaan, Colorado. At forty she is widowed and raising her first child. But baby Jonas will never know his father, and Katie Ann wonders if her Heavenly Father hasn't forgotten about her as well. Is it really God's plan for her to be a single parent?
Eli Detweiler has come to Canaan for a wedding and a long vacation. Having raised six children following the death of his young wife, Eli is finally an empty-nester. He's enjoying the slower pace of having no one to care for but himself.
When Katie Ann and Eli meet, there is an instant connection. Yet as strong as the attraction is, they both acknowledge that a romance would never work. He is done parenting, while she has just begun. But as their friendship slowly blossoms into feelings that are as frightening as they are intoxicating, Katie Ann and Eli question if the plans they made for themselves are in line with God's plans.
Can Katie Ann entrust her heart to another man, and rediscover the wonder of God's love?
Good book. Katie Ann is raising her child alone after her husband left her and then died in an accident. She has good friends in her Amish community and at a wedding meets Eli Detweiler. He is visiting from his home in Indiana, where he has just married off his youngest daughter. After seventeen years as a single father, he is looking forward to living his own life and doing some things that he wants to do. He and Katie Ann find that they have a lot in common and enjoy talking to each other. Both of them have friends who keep trying to fix them up with potential mates, but neither is interested. They decide that they would like to be friends, but agree that a relationship is just not possible. I really liked both Katie Ann and Eli. Katie has trust issues stemming from her husband's desertion. She is quite happy to be Eli's friend. She is surprised by how good he is with her son, as Amish men aren't generally very hands on with infants. She enjoys hearing about his plans for travel and their letters back and forth have been satisfying. There is also a physical attraction, but their differing life paths indicate that nothing will come of it. As their friendship grows, Katie finds herself falling in love with Eli. Eli is an unusual Amish man. He did not remarry right after his wife's death but raised his children on his own. Now that he has an empty nest he is looking forward to doing the things he dreamed about when he was younger. He likes Katie Ann and is attracted to her, but is not interested in starting over with a new family. As their friendship progresses he can't understand why he is so drawn to her when she is the opposite of everything he currently wants. The more he travels the more he finds he wants to spend time with her. I loved the way that their relationship developed slowly and Eli's solution to their living arrangements was perfect. I also enjoyed the other characters in the story. Martha was just as fun in this book as she was in the first. I really liked her faith and the way she was like a mother to Katie Ann. I loved her dealings with Danielle and look forward to seeing more of her.