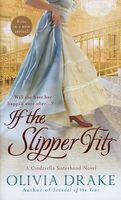 Series: Cinderella Sisterhood (Book 1)
IS THIS LOVE REAL?
Raised in a girls' school, Annabelle Quinn longs for the world outside the walls of the academy. When she's hired as the governess to an orphaned duke, Annabelle never expects the child's breathtakingly handsome guardian to capture her imagination -- or her heart.
OR ARE THEY LIVING IN A FAIRY TALE?
Falling for his young nephew's governess is an irksome complication in Lord Simon Westbury's orderly life, but Annabelle's quiet beauty and wry intellect are too much to resist. Meanwhile, a mysterious danger looms over the remote Cornwall estate. Will their newfound desire stand the test of time? Or are some happy endings just too good to come true?
Good book. I liked both Annabelle and Simon. Annabelle really wanted to get away from the school. I loved the way that she was able to get the interview she needed - it showed her determination and her creativity. I also liked the way that she refused to back down when confronted by Simon about her presence there. The way that she came to care so deeply for the young duke, Nicholas, was heartwarming and I loved that she refused to give up on getting him exactly what he needed. Her enjoyment of the little things in her new life was great. Her love for Simon grew slowly, but it was strong. I liked that she had enough sense of her self-worth to not give in to his desire to make her his mistress, and that she had the guts to call him out on it. Simon was a little harder to like at first. His lack of interest in his nephew was frustrating to Annabelle and she wanted to change it. Simon had a hard time looking at Nicholas and not remembering the love he had for the boy's mother and her betrayal of him. Simon's interest in Annabelle was purely lust at first and he kept trying to figure out how to get her in his bed. He didn't understand why he kept listening to her when she would complain about his treatment of Nicholas, but eventually he listened to her and his attitude began to change. He was surprised when she refused his offer and furious when she told him what she thought of it. I did like the way it made him think and he began to realize what his feelings really were. The mystery that wove through the book was fairly mild. I guessed who the bad guy was but not why he was after Annabelle. Overall I liked it and am looking forward to the next book in the series.