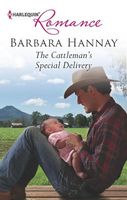 Reece Weston had never held a baby until the night he saved pregnant Jess Cassidy during a raging storm and delivered her tiny daughter
Single mom Jess has never forgotten her rescuer. So, when her baby is a few months old, she seizes the chance to repay the favor.
Cattleman Reece is usually content with the silence of the Outback—shutting out emotions, distractions. But with the woman who's been haunting his dreams in his homestead, and her adorable daughter uttering Da as her first word, his resolve starts to crumble….
Good book. Reece was there when Jess's husband was killed in a car accident and Jess went into labor. He delivered the baby and thought that would be the end of it. But he couldn't resist staying in touch and soon discovered that Jess was having a hard time. So he hired her to come and be the housekeeper for him and his father. I really liked both Reece and Jess. Reece is a basically kind man, but emotionally rather distant. His mother had left when he was five years old and all the women he had tried to get close to hadn't liked the remoteness of his home. He is attracted to Jess, but has no hope of her wanting to stay. At first he tries to avoid her, but soon finds himself spending more time with her and baby Rosie. His heart keeps seeing her staying, but his mind is sure that there is nothing that would keep her there. Jess is another person with trust issues. Her husband had left her with no money and huge debts. She wasn't sure if she should take Reece's job offer because she was attracted to him, but she couldn't afford to say no. She tried very hard to keep their relationship on a professional level but eventually their attraction got the better of them. Each tried to convince themselves that they could keep it on a casual level, but the feelings grew between them anyway. Jess left to go back to the city, feeling that she couldn't inflict her problems on Reece. I loved it when Reece went after her and the epilogue was very satisfying.