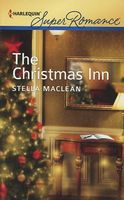 There's room at the inn...but maybe not for long!
As a favor to her brother, Marnie McLaughlan has agreed to spend Christmas at the lovely Mirabel Inn -- as a mystery guest. But Marnie knows this favor is bound to be complicated because the owners need a confidential report immediately. Marnie's impressions could affect their decision to sell.
From the outset, the inn is not what she expects...and neither is the manager, Luke Harrison. She quickly develops a rapport with this very attractive widower and his adorable little boy. He knows something is up, yet she can't tell him that the inn -- which is home to Luke and his son -- is in danger. Marnie's torn between her obligation to her brother and her growing love for Luke. Fortunately, things have a way of working out at Christmas!
Very good book. I really liked both Luke and Marnie. Luke is a single father who manages the Mirabel Inn. He works very hard to make it the best place possible, with little to no contact with the owners. He is immediately drawn to Marnie, even though at first he thinks she's married. When he finds out she's single, he asks for her help with the couples' Christmas event he is doing at the Inn. He is amazed at how good she is at everything she is doing for him. I loved the way that all the members of the staff are like part of his family. When the inn is hit by a blizzard he does a great job keeping everyone safe. I liked the way he had growing feelings for Marnie. He still had issues with the way his wife died and this is preventing him from moving on and fully giving in to his feelings for Marnie. When he finds out about the mystery guest thing he is furious and hurt and lashes out. He eventually sees the truth of his feelings and he and Marnie are able to work things out. I loved his support of her in her efforts with her family. Marnie was a great character. She has been fighting her family for the right to run her own life. When she made the decision to sell her half of her business she worked very hard to keep it from her family. Then she had to decide what she wanted to do next. She took a few days to do a favor for her brother by checking out the inn. Soon after she arrived she realized that she didn't want to do the evaluation because of the effect it would have on Luke and the others. She didn't know how to tell him about it, especially since she knew she was falling for him. When it all came out she was hurt by his reaction, but soon realized that she had to make him understand. I loved the way that she made him listen and then came up with an alternative. I really enjoyed seeing the way that she fit in to the world of the inn and how much she liked it. I also liked seeing her finally stand up to her family and go after what she wanted. I really loved their solution to the problem with the inn. My only complaint is some confusion about the location of the inn. At the beginning her brother says it is in the Berkshires which are in western Massachusetts and Connecticut, but later Mar

nie says it's in upstate New York.