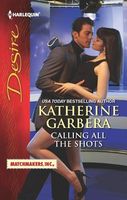 Series: Matchmakers Inc (Book 3)
Candid Camera
The irony of working on a matchmaking reality TV show hosted by the guy who broke her heart in high school has producer Willow Stead tied in knots. Not only that, but Jack Crown even has the nerve to ask her out. Should she risk taking him up on his offer?
The girl can't help it!
Jack sees Willow Stead all grown up and has to have her. Soon passions erupt that rival the drama on the show. But does Willow have a trick up her sleeve that will throw the celebrity pitchman a major curveball?
Very good book. I liked both Jack and Willow though each had their parts I didn't like too. Jack is the celebrity host of Willow's show and the guy that stood her up for prom in high school. Now he's all grown up, super good looking and too charming to be real in her opinion. He is a workaholic who considers himself to be a loner. He enjoys women, but doesn't get serious about anyone. He has decided he wants Willow and will do whatever he needs to to have her. He doesn't understand why she keeps shutting him down, but keeps asking until she says yes to going out with him. Pretty soon he finds himself thinking in terms of a future. But he is something of a control freak and has a hard time making himself open up to that kind of vulnerability. Willow is also a workaholic and control freak. She never lets herself get too close to anyone. She goes out with Jack the first time with an eye to making him fall for her and then walking away to get revenge. She immediately discovers that he is different than the boy she went to school with and that there are some things about him that she really likes. But she is afraid of opening herself up to more heartbreak and tries to keep part of herself locked away. She too finds herself thinking in terms of a future with Jack, but then he finds out about her revenge plan. He is furious and hurt and walks away from her, vowing to go back to his lone wolf ways. Both of them had serious work to do to overcome their issues. I loved Willow's plan for her apology - it was definitely unique and lots of fun.