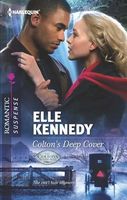 Series: Coltons of Eden Falls (Book 3)
Running from an abusive past, nurse Chloe Moreno arms herself with a new identity and seeks an uncomplicated life in Eden Falls. But her security in the once-peaceful community is crumbling fast. Not only is there a kidnapper on the loose, but it seems her worst nightmare has tracked her down. She needs someone to trust…and no one fits the bill better than Dr. Derek Colton.
Resident healer and protector, that's all Derek is expected to be. A new relationship—especially with his beautiful, vulnerable new nurse—is a risk he shouldn't take. Yet her life's in his hands. And once desire puts her in his arms, he must destroy the threat that's lingering far too close….
Very good book. I really like both Chloe and Derek. Derek has been the head of this branch of the Coltons since their parents' deaths on 9/11. He takes his role as protector and doctor very seriously. Ever since Chloe arrived to work as his nurse he has felt things that he hasn't felt since the death of his wife. He is attracted to her but determined not to do anything about it, feeling that he is a bad bet in the relationship game. He also senses that she is hiding something and that she is very on edge. When fear sends her running to him, his protectiveness kicks in. He tries to convince himself that that's all it is, but it's pretty obvious that he is beginning to care for her far more than anyone in his past. But his issues cause him to be afraid of those feelings. Chloe is an amazingly strong woman who, thanks to her husband's abuse, doesn't see herself that way. When she faked her death and escaped she thought she would be free to live her life. Suddenly things are happening that have her convince that he knows she's alive and where she is and she is terrified. She's ready to run again until Derek convinces her to stay. She has been attracted to him since the day they met, but her trust level is low and she doesn't know that she'll ever recover. I loved the determination she had once she decided not to run. Her love for Derek happened quickly, but she sensed that there was something holding him back. I wondered how they were going to tie this story in to the kidnappings and loved the way that it was done. The truth about Chloe's stalker wasn't really a surprise but it was very well done. I can't wait for Tate's story and the conclusion of the series.