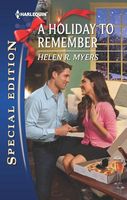 Alana Anders had lost enough in life to recognize a kindred soul. So when fate led her to a lonely cowboy -- with a battle-scarred heart to match her own -- she should have given him a nod and moved on. Because the holidays were upon her…and the last thing she needed was someone else's problems….
But what she wanted was another story. And she wanted Mack Graves, reluctant war hero and heir to the Last Call Ranch -- badly. She knew that Nowheresville, Texas, was the last place he longed to be -- at Christmas, no less! -- but Alana just knew that she and Mack were meant to be together. And that in each other's arms they could forge a new kind of home….
Very good book. I really liked both Alana and Mack. He was back in Oak Grove to try to reconnect with his estranged father, not knowing that he had recently died, leaving the ranch to Mack. He had no plans to stick around, but meeting Alana changed his mind. There was something about her that soothed his soul, aching from the losses he experienced in the war. He also found that he connected with her on a far deeper level than he had anyone else and that connection soon turned to love. I really enjoyed seeing the way that Mack took care of her, even when her independence tried to chase him away. The way that he was able to help her after the plane crash was very moving and showed what a good man he was. Alana was terrific also. After losing her family in a plane crash when she was a teenager, she didn't seem willing to believe that she was allowed to be happy. I really liked the way that she connected with Mack right away. From the moment she met him she could sense his pain but also felt that she could help him. She seemed to know just what to do from bandaging his wounds to being with him when he accepted his award. I loved their obvious love for each other and their friends. My only issue with the book had nothing to do with the story but with the horrible editing. Harlequin needs to hire some American editors who know that when written members of the United States Marine Corps are Marines not marines. Marine Corps is always capitalized, and the Secretary of the Navy is a proper noun and therefore capitalized. This happened throughout the book and constantly pulled me out of the story.