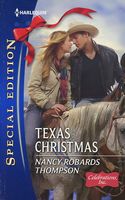 Series: Celebrations Inc. (Book 3)
ALL SHE WANTS FOR CHRISTMAS...
Busted! When Pepper Merriweather's superwealthy daddy is arrested for fraud -- and the family fortune is kaput -- just before the holidays, Pepper suddenly finds herself in need of a job. Despite her high-society connections, no one wants to give her a chance -- no one except gorgeous billionaire recluse Robert Macintyre.
When he proposes a position that comes with more strings attached than a symphony orchestra, Pepper knows it's an offer she should refuse. But beggars can't be choosers. Besides, Pepper knows she has what it takes to rise to the challenge -- but does she have what it takes to keep her hands off her irresistible new boss?
Very good book. Pepper needs a job, and a friend gets her an interview with Rob MacIntyre. She briefly met him on a plane and they connected, but if she works for him it's hand off. Their attraction won't go away and soon they aren't able to resist. I really liked both Rob and Pepper. Pepper has been a favorite of mine during this series. For all she was rich, she was very down to earth and a great friend to the others. Her strength was in being able to talk to people, make connections and get donations for the causes she worked for. I loved the way that she became good friends with Rob's sister. I also thought that she was terrific with Rob's son. She was able to relate well with him and was a great help with his care. She carried a lot of guilt over the death of her twin brother when they were kids, but being with Rob and Cody helped her deal with those feelings. I really liked her strength of character also when dealing with paparazzi and people who were nasty to her because of her father. Rob was a great hero. After his son's accident and his divorce, Rob had become something of a hermit. He avoided most social events, preferring to spend his time with Cody. When he met Pepper he couldn't get her off his mind. He hired her to work with him on the fundraising for a local hospital and the more time he spent with her the more he came to care. Her loving attitude toward Cody was the icing on the cake. I really loved the way that he saw Pepper for who she was, not who her father had been. I'm looking forward to Sydney's story.