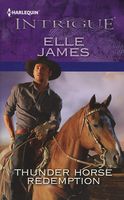 Series: Thunder Horse (Book 3)
A WARRIOR WITH A BADGE
Life in the North Dakota badlands always has its dangers...but the shooter who attacks Roxanne Carmichael has definitely raised the stakes. Already struggling to keep her ranch from bankruptcy, Roxy is now faced with new threats around every corner. To make matters even worse, her ex-fiance, FBI agent Pierce Thunder Horse, is visiting his family's ranch-and once the Lakota lawman learns Roxy's at risk, nothing will shake him from her side.
When she threw his ring back in his face two months ago, Pierce promised Roxy that he'd keep his distance. But leaving her without protection is not an option. Pierce is determined to stick close, mend old wounds...and strengthen the unrelenting desire that still rages between them.
Very good book. Pierce is back on his family's ranch for his brother's wedding when he finds Roxy being attacked. Roxy had called off their engagement two months earlier after holding him responsible for her brother's death. She doesn't want him anywhere near her, but he's not about to leave her unprotected. I really liked both Pierce and Roxy. Pierce is very good at his job, but holds himself to very high standards. When a raid went bad two months earlier, killing several agents, he felt he should have known it was a trap. His sense of responsibility added to Roxy's grief and she ended their engagement. But Pierce still loves her and refuses to leave her without protection. He also finds that the more they are thrown together the more he wants to try to get her back. Roxy's grief and fury caused her to pull away from Pierce. Now she doesn't want him near her - mostly because the attraction is still there and so is the love. She doesn't want to depend on him but she's feeling overwhelmed by the attacks and the other ranch troubles. I really liked the way that, by the end of the book, she started to see that she hadn't been fair to him. The suspense was good with some very tense moments at the end.