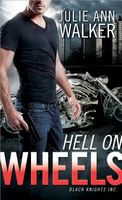 Series: Black Knights Inc (Book 1)
Black Knights Inc. -- Behind the facade of their tricked-out motorcycle shop is an elite special ops team assigned the jobs too hot for anyone else to handle.
HOLD ON TIGHT...
Ex-Marine Nate "Ghost" Weller is an expert at keeping his cool -- and his distance -- which makes him one hell of a sniper. It's also how he keeps his feelings for Ali Morgan in check. Sweet, sexy Ali has always revved his engine, but she's his best friend's baby sister...and totally off limits.
ROUGH ROAD AHEAD
Ali's never seen anything sexier than Nate Weller straddling his custom Harley -- or the flash of danger in his eyes when she tells him she's in trouble. First something happened to her brother, and now she's become the target of a nasty international organization. With Nate, her life is in the most capable hands possible -- but her heart is another story altogether.
Excellent start to a new series. After her brother's death Ali has been experiencing some odd things. She is being followed, her home has been broken into, and she was mugged. Feeling as though it might have something to do with her brother, she goes to Chicago to talk to her brother's best friend Nate. Nate and his friends run a motorcycle shop that is a cover for a special ops team. Ali had always known that there was more to her brother's activities than he'd said and now that was confirmed. As Nate, Ali and the rest of the Knights try to find out what is going on, Nate and Ali get closer. I loved both Nate and Ali. Ali has had a crush on Nate for years, ever since he started working with Grigg. When she went to Chicago she made it clear that she wasn't going anywhere until she knew what was going on. For a sweet kindergarten teacher I thought Ali had a lot of courage. She had no trouble standing up to Nate and the rest of the team and was able to (mostly) deal with anything that came along. I loved the way that she chattered when she was nervous. She also had a weak stomach that showed up at awkward times (especially at the end), but she worked around it. I really liked the way that she understood Nate and was able to get him to talk. Nate was a great hero and alpha male. He was definitely the strong silent type. He had loved Ali from the first time he met her, but as his best friend's little sister she was off limits. He found that the only way he could deal with his feelings was to stay away from her, but this made it seem as though he didn't like her. I loved the way that when he was around her he could hardly think or put words together in a sentence. When she came to him he knew he had to protect her. I loved the way that he tried so hard to keep his distance but she kept wearing him down. His biggest problem was dealing with the details of his friend's death and the guilt he felt. He was sure that if Ali knew what had really happened she wouldn't want anything to do with him. The final scenes of the book are fantastic and I loved the feelings that Nate was finally able to express. Ali's acceptance of Nate and the things he has done was just what he needed. Besides the main story of Nate and Ali, I loved learning about the other people of the Black Knights. Julie Ann did an excellent job of building their world. Each of the other characters was given life by her descriptions. I loved the set up of the next book with Frank and Becky. Their parts in this book were great and I was with Becky in wanting to smack Frank often and hard! I can't wait to start the next book.