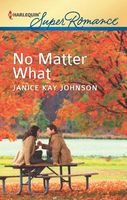 To love and support...no matter what
As a high school vice principal, Molly Callahan is used to being the one with all the solutions. Not this time. Her teenage daughter's pregnancy has Molly questioning her own choices and unable to make the tough decisions. Figuring out what's right and wrong isn't so simple anymore, and now, more than ever, she needs someone to trust.
Little does she expect that person to be Richard Ward. Their teenagers' dilemma has forced them to meet, but something much more powerful is pulling them together. This is hardly the time for Richard and Molly to think about themselves...yet she can't stop this attraction. Letting herself count on him is one thing. Letting herself fall for him? That's guaranteed to make things very complicated.
Very good book. Molly's daughter Cait is pregnant. Richard's son Trevor is the father. Trevor is acting up at home and at school and as vice principal Molly has to deal with him and his father. Molly and Richard have to find a way to help their kids deal with the consequences. They find themselves attracted to each other which only adds to the confusion. I really liked both Richard and Molly. Richard is a single father who suddenly has his seventeen year old son living with him. Trevor is sullen and angry and in constant trouble, not the boy he had been a few months before. Richard has been called to meet with the vice principal, Molly, several times. The did not hit it off well in the beginning, though Richard did find himself attracted to her. When he found out that Trevor was the father of Cait's baby, he was not happy and was also worried that Trevor would find himself in the same position he had been in. Richard soon found himself spending more time with Molly as they tried to deal with their childrens' predicament. From there, they discovered a great sense of support from each other which soon developed into love. Richard still had some issues to deal with from his marriage to Trevor's mom, which nearly caused an end to his relationship with Molly. Meanwhile Molly had always had an excellent relationship with Cait, until she started going out with Trevor. When she found out about Cait's pregnancy she was stunned and wondering where she had gone wrong. She knew they would have to work with Richard and Trevor which meant she would have to deal with her attraction to Richard. She soon came to love him, but had trust issues from her life with Cait's dad. She also had to deal with her feelings about Cait's options about her pregnancy, which caused problems with Richard. The solution to their problems was an interesting one. I also really liked how Trevor and Cait were portrayed. Both of them seemed typical for their ages, with their attitudes and how they dealt with their problems. I enjoyed seeing the changes they went through. I would liked to have found out whether the baby was a girl or boy.