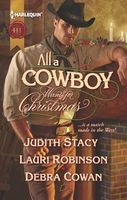 Waiting for Christmas by Judith Stacy
Marlee Carrington has never had a place to call home. Arriving in Harmony, Texas, she is thrown together with Scrooge-like Carson Tate. Amazingly, he reveals a seductive sense of fun - and Marlee begins to hope that Christmas has finally arrived!
Good story. Marlee had spent most of her life feeling like she was on the outside looking in. When she arrived in Harmony to visit relatives she is surprised by how at home she feels. She is attracted to Carson when she meets him, but he is pretty grouchy. Carson has spent his life trying to make as much money as he can. He and his family had been poor when he was young and he never wanted to feel like that again. When he ended up spending time with Marlee he realized that maybe there was room in his life for some happiness also.
His Christmas Wish by Lauri Robinson
Morgan and Cora Palmer are married on paper, but in reality they're like strangers. Taciturn rancher Morgan's demons have barricaded his heart against his wife's love. Until a kiss ignites the fire between them...
Morgan had married Cora because he felt responsible for her husband's death. Though they lived together, they didn't act like a married couple. Cora had fallen in love with him before they married, but seemed to be unable to get past his barriers. She decided she was going to have to do something to get through to him. Morgan had problems opening himself up to love because of the way his mother abandoned her family when he was young. He had fallen for Cora, but refused to give in to it because of those issues, plus thinking that she was still grieving for her husband. He was stunned when Cora kissed him and then was able to talk to him about why he behaved that way. I loved the way that she made the decision to go after what she wanted.
Once Upon A Frontier Christmas by Debra Cowan
Presumed dead, rancher Smith Jennings returns home and will do whatever it takes to claim the woman he loves. But Caroline Curtis isn't the same woman he left behind...
Smith had come home after two years away and found out everyone thought he was dead. He was devastated to learn that the woman he loved was engaged to someone else. Caroline was still in love with Smith, but something had happened to her to cause her to feel that she had to give him up for the sake of his happiness and future. It took a near tragedy for her to realize that their best chance of happiness was together.