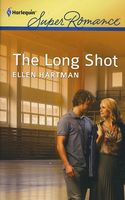 Series: Going Back
Deacon Fallon has made something of himself. Yeah, it wasn't easy becoming a successful -- now retired -- pro basketball player, but he did it. In the process, he made his brother's life better. That's always been Deacon's goal.
This latest effort to help, however, may push Deacon too far. He's been roped into coaching the high school girls' team! Worse, there's a little offside action brewing between him and his hot assistant coach, Julia Bradley. Definitely not in his plans, but he can't resist her. And for the first time, Deacon wants something that has nothing to do with his brother and everything to do with Julia!
Very good book. I liked the way that Julia worked to keep her girls' basketball team going. She was somewhat devious in the way that she got Deacon to help out, but I was glad to see that he kept his word and stayed to help. It was pretty obvious from the beginning that Julia is a "fixer" and has a tendency to go for what she feels is right without always listening to the "fixee". I really enjoyed the interactions between Wes and Deacon and Wes and the team. I liked the way that Wes was trying to get through to Deacon that he's an adult now and doesn't want to be "taken care of". I ached for Deacon and his feelings of inadequacy because of his reading issues. I also liked the way that Deacon stood up for Julia and the girls' team against the "old boy" network of the boys' team booster club. I loved the concluding rally and the way that the kids took ownership of their teams. I also liked the way that both Julia and Deacon came to see their weaknesses and resolved to take care of them.