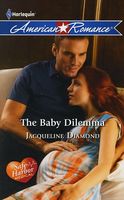 Series: Safe Harbor Medical (Book 8)
Thanks to her anonymous sperm donor, a baby is about to be more than a gleam in Dr. Paige Brennan's eye. So why the Safe Harbor obstetrician just agreed to further complicate her life with a roommate, she'll never know. She still can't decide whether private detective Mike Aaron is irresistible...or just plain irritating. Though it is nice to have a man around the house.

Until Paige gets the sneaking suspicion that her baby's "anonymous" father is none other than her new roomie.


Helping out couples with fertility issues is one thing. Raising his own child is something Mike never envisioned. But the mother-to-be is bringing out his protective instincts. And some other feelings he didn't even know he had. Things are suddenly moving a little too fast. Or is Mike right where he belongs -- on the fast track to fatherhood?
Very good book. Not only is Paige an excellent doctor, with a good relationship with her patients and coworkers, she has a straightforward way of dealing with people. Mike had irritated her when they first met, with some rather obnoxious comments and then some sexist flirting. I liked the fact that, when she explained what bugged her, he changed his ways. They also had some real attraction going on. But Paige is pregnant and Mike has said he has no interest in ever having children. They give in to the attraction, though Paige hasn't told him she's pregnant, and she knows that because of it the relationship has no future. When Mike finds out about her pregnancy, he's thrown for a loop, especially when they figure out who the donor is. He also realizes that he's developing feelings he never expected. I liked the way he was shown his feelings at the end.