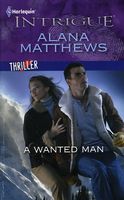 Series: Thriller
Nothing would stop U.S. Marshal Harlan Cole from capturing an escaped fugitive. Not even being forced to work side by side with his ex-lover, Wyoming Deputy Callie Glass, on a murder investigation. Harlan knows the case will open old wounds, but none as raw as the ones he inflicted on Callie long ago.

Still, establishing an amiable partnership is vital if they are to complete their assignment. But the fury in her eyes and the fever in his blood prove too lethal a combination. The deeper they ride into the mountains on a manhunt, the more Harlan has to protect Callie from the chilling secrets of her past. Sensing the rekindling of an old flame, Harlan establishes one goal: keeping Callie alive long enough to win her back.
Good book. The tension between Harlan and Callie was obvious immediately - and not just because they had to work together. It was apparent that neither had gotten over the other. I loved Callie's grandmother's outspokenness about what Callie needed to do. With the two of them having to work together to find the fugitives and murderers, they had to put aside their differences. As the investigation and search went on, it was interesting to see who was doing what and who was really behind it all. I was glad to see that they finally started to communicate at the end.