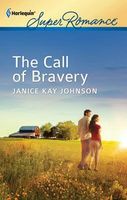 Series: A Brother's Word (Book 3)
No emotional connection means zero risk of being hurt. DEA agent Conall MacLachlan has learned that the hard way. And it's been the key to his survival. So why is his latest assignment getting to him? Could be that he's back in the town he rejected years ago. But he suspects the real reason is Lia Woods.

He's instantly and powerfully attracted to Lia -- something that's never happened to him. And running a surveillance operation from her house has them too close -- he can't catch his breath. Between her and her foster kids, Conall feels the domestic ties tighten...yet it's not so bad. He just needs to be brave enough to take what Lia offers.
Very good book. Conall is my favorite of the three brothers. Duncan and Niall had had each other growing up, but Conall had been younger and not as physically fit. When their mother walked out, he acted out the most, and felt the brunt of Duncan's control. Once he graduated from college he swore he would never come back. He also never contacted Duncan, though Duncan kept track of him. When Conall's job brought him back to town, he ended up using Lia's house to run surveillance on one of her neighbors. His immediate attraction to her, and his desire to help her foster kids, scares him to death. He has had a lock on his emotions for so long he doesn't think he's capable of a relationship. Lia is just as attracted to him. She can also see past his mask to the hurting man underneath. She knows he is capable of great love -- she sees it in his dealings with her foster kids. She just has to get him to see it too. The emotions in this book were intense. Conall wanted to help the kids, and knew how to reach them because of his past. Seeing what he went through at the end, when Brendan was in danger was heartpounding. When he walked away from them I wasn't sure what it was going to take to bring him back. I really liked the way it worked out, and seeing Duncan at the end brought it all together.