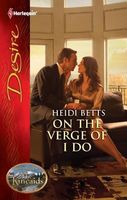 Series: Dynasties: The Kincaids (Book 4)
It's hard for events planner Kara Kincaid to be planning her sister's wedding to the man Kara's had a crush on since childhood. Even harder when said sister calls the whole thing off. Hardest still is when the jilted groom shows Kara some very personal attention, threatening to destroy her relationship with her family -- and Kara ends up in his bed anyway.

After a just-friends engagement that just didn't work, hotel magnate Eli Houghton thinks he's finally found the right woman. His new plan: convince Kara there's no hidden agenda, and that the magic words are I do....
Very good book. I could see in the earlier books that the relationship between Eli and Laurel wasn't the strongest, so the end of their engagement wasn't a surprise. It was something of a surprise to me that Eli fixated on Kara so quickly, but he was surprised by the flare of attraction he felt that night he went to her house. Once he realized that the feelings he had for Kara were far stronger than those he had felt for Laurel, he set out to convince her that they belonged together. He had some great ways to do it (besides the obvious) and I loved their picnic on the beach. Kara had been in love with Eli for years, and wasn't convinced that his pursuit of her wasn't just some sort of rebound thing. I loved the ending when she went to him at the park, and again at the dinner with her family. I'm really looking forward to the next two books in the series - I think I know who the bad guy is, but I'm not positive.