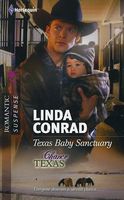 Series: Chance Texas (Book 1)
There was nowhere safe for Grace Baker and her baby to run. Even the law was no match for the ruthless drug lord who'd fathered her child. Serrano had spies everywhere and wouldn't stop till he captured his son and killed Grace. Now Marshal Sam Chance was suddenly back in her life offering protection...could she dare to refuse?

Sam believed his family ranch was the one place Grace would be safe. Here they found refuge in each other's arms. But returning home only reminded Sam of his past failure to protect those he loved. This time had to be different. Because Grace and her baby meant more to him than life itself.
Very good book. Grace had been doing a pretty good job of running and hiding, but Sam had been looking for her to get Grace and Mikey back in protection. When Serrano caught up with them, Sam decided the safest place to take them was his family's ranch. The biggest problem was that he hadn't been back there in more than ten years. Fortunately, the only issues going back were his own. He had fled the ranch after feeling responsible for the death of his little brother, and had spent the years since then trying to overcome his guilty feelings. By returning there, Grace helped him confront those feelings while she began healing from her own traumas and guilty feelings. I liked the way that Sam helped her learn to defend herself, and how he worked to help her with her feelings. I also liked the way he made sure she got the help she needed at the end, even though he almost gave up on their feelings for each other. I'm looking forward to the next book in the series.