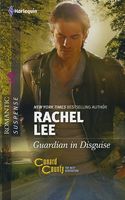 Series: Conard County: The Next Generation (Book 11)
Like her journalism career, Liza Enders's sunny outlook has dimmed. A layoff, her move back home and a new low-paying teaching job have her thinking life couldn't be more unfair...or lonely. But when a sexy stranger turns up at the faculty tea, a spark of intrigue -- and chemistry -- reawakens Liza's investigative instincts...

Special agent Max McKenny is not who he claims to be. While he testifies in a homegrown terrorism trial, it's safer that way. The last thing he needs is a nosy ex-reporter blowing his cover. But one look into Liza's inquisitive green eyes and Max can't help but wonder how much he's willing to risk just to hold her...or how he's going to protect her from a diabolical threat.
Very good book. Liza's reporter's curiosity has her doing research on Max and trying to find out more about him. Because of her layoff, she is teaching instead of reporting and her investigative instincts have been on vacation. But now she is searching and the more she finds out the more curious she is. When Max finds out what she is doing, he needs to find a way to stop her. Unfortunately for him, he is very attracted to her which makes it hard for him to keep his mind on the job. When her searching draws the attention of the people he's going to testify against, it puts them both in danger. Liza has been trying to realign her sense of self, knowing that finding a new reporting job is unlikely. Her feelings about Max have her questioning her own abilities. Meanwhile, Max has been trying to unearth his own self identity after being undercover for so long. I really liked the way they finally opened up to each other, and began to trust again.