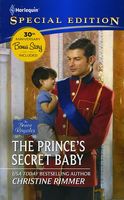 Series: Bravo Royales (Book 1)
Only a matter of urgent Bravo family business could bring Prince Rule to America. And he wasn't leaving until he met Sydney O'Shea...

...who happened to be the mother of Rule's toddler son. Rule didn't expect the firestorm of desire the regal Texas attorney stirred in him. With Montedori law decreeing that he wed or lose everything, the captivated prince came up with the perfect solution. Propose marriage, now. There would be time enough later to tell all...wouldn't there?
Very good book. I liked Rule, even though he was keeping the secret of his fatherhood from Sydney. When he met Sydney he was only intending to check up on her son, then leave her alone. He never expected that he and Sydney would be so intensely attracted to each other. He saw this as fate, so went ahead and proposed marriage. Sydney was leery at first, since she had had two relationships that had failed due to the men being untrustworthy. She occasionally got the impression that Rule was hiding something from her, but thought she might be imagining it. When the truth came out, she was devastated by the knowledge that he had lied to her. I loved the fact that, though she made her displeasure known, she didn't pack up and leave him. The way they addressed the problem was wonderful. I'm really looking forward to the next one.