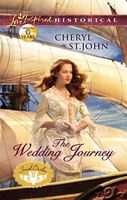 Series: Irish Brides (Book 1)
The mysterious inheritance is the answer to a prayer. Now Irish lass Maeve Murphy and her sisters can come to America! She's sure happiness awaits her, even if it won't -- can't -- come from widowed ship doctor Flynn Gallagher. Yes, he made her his assistant, but she's not foolish enough to fall for the man all the eligible, wealthy female passengers admire.

Flynn Gallagher may have his pick of ladies, but only one cares as he does for the sick and poor. Flynn vowed never to marry another woman who could break his heart. With Maeve, has his heart found safe harbor at last?
This was a very good book. Maeve and her sisters are headed to America, escaping the poverty and disease in Ireland. Thanks to her quick thinking during a dockside emergency, Maeve ends up as the doctor's assistant. He helps her sisters secure other positions on the ship. Maeve is a sweet, optimistic young woman who has a gift for healing. Flynn has spent the last several years working as a ship's doctor and running away from the memories of his wife and son. Working with Maeve, she opens his eyes to what he has been doing, and he starts to feel again. I really enjoyed seeing the various people on the ship - the sisters, the captain and his wife, their friends and even the mean girl. All of the characters were very real as I read the book. I'm looking forward to the next one.