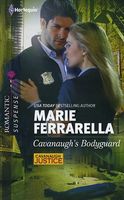 Series: Cavanaugh Justice (Book 21)
Being a Cavanaugh had advantages for Detective Bridget Cavelli -- the Cavanaughs practically ran the department. But this sudden identity crisis left Bridget off balance and vulnerable. Perhaps that explained the uncomfortable attraction she suddenly felt for her partner, consummate ladies' man Josh Youngblood.

Then the Lady Killer struck again. With no time to deal with her chaotic emotions, Bridget had to catch the vicious serial killer before he claimed more victims.


But when the smoldering lust beneath Josh and Bridget's breezy banter ignited into irresistible passion, their feelings couldn't be denied. She'd always been a cop first, but with Josh's help, Bridget was discovering how to be a woman....
Another fantastic Cavanaugh book. I love this family and the way they watch out for each other. Bridget is still adjusting to the fact that she is a member of the Cavanaugh family, and it has left her feeling a little strange. With the reappearance of the Lady Killer serial killer, she and her partner Josh are spending even more time together. She's always noticed how good looking he is, and he has been a great partner and friend. But now she is noticing a lot more. And she gets the feeling he is too. He certainly isn't acting like himself. I loved how he offered to go with her as moral support to the Cavanaugh family party when her grandfather arrived from Florida. And the way their attraction erupted when they got back to her place was hot! I enjoyed Josh's confusion over his developing feelings for Bridget. He was strictly a "no commitment" kind of guy, and she had him thinking of the future. The showdown with the bad guy definitely had my heart thumping, and Josh's panic was kind of heartwarming. I loved the nurse's reaction to the invasion of Cavanaughs at the hospital. I can't wait for the next one.