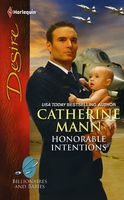 Series: Billionaires and Babies
Major Hank Renshaw knows almost everything there is to know about Gabrielle Ballard. Except for what it's like to touch her. Because Gabrielle is his best friend's fiancee. Or she was. Until his buddy died in battle -- right after making Hank promise to find her...

So now Hank's in New Orleans. In Gabrielle's apartment. Watching her nurse her infant son. It's not honor that draws him to her. It's not duty that makes him stay. It's need he's feeling, plain and simple -- the desire to take the woman he's always wanted and finally make her his own.
I really liked this book. When Hank returned from his deployment, he immediately went to find Gabrielle. It wasn't just to check up on her for his late friend's sake, but also for himself. Gabrielle was living in New Orleans, taking care of her seriously ill son on her own. When Hank arrived, he immediately stepped in to help. Gaby wasn't happy about it, not wanting to be dependent on anyone - and also feeling guilty over the feelings she had for Hank. Hank had also been in love with Gaby from the time he met her, but his friend had loved her first. Hank felt guilty that he was alive and Kevin was dead, but was happy to be able to help Gaby. Hank also had issues with his family, and tended to keep himself very private. I loved seeing the whole Renshaw/Landis family together, and see how Hank and his father finally started to relate better to each other. I also thought it was great that the parents both Gaby and Hank had issues with were the ones that helped them confront their problems.