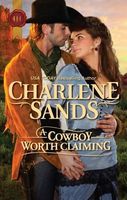 Series: Worths of Red Ridge (Book 1)
Cowboy Chance Worth gets more than he bargains for when he saves damsel in distress Lizzie Mitchell. He has come to Red Ridge, Arizona, to rescue her family's failing ranch and find Lizzie a suitable husband. Too bad it wouldn't be honorable to keep the little spitfire for himself!

Lizzie may be innocent, but she's not naive. Fully determined to find her own way in life, she doesn't welcome Chance's intrusion. But when he plans to leave she realizes she may not be ready to see the back of him just yet!
Very good book. This is a prequel to the other Worth books, and shows how the family got its start. Lizzie's grandfather saved Chance's life when he was a kid, so when Edward asked for Chance's help, he came as quickly as he could. The first person he encountered was Lizzie, who he saved from drowning though she wouldn't admit it. Lizzie is young and innocent, but not stupid. She has a plan to help save the ranch, and taking Chance's help isn't part of it. But her grandfather has asked Chance to help Lizzie get their cattle to market, and she has no choice but to agree. On the trail, Lizzie is outspoken and has no trouble telling Chance what she thinks. He really likes her, but knows that he is no good for her and does his best to keep his distance. Lizzie has gotten a taste of what passion feels like and gets very good at pushing his buttons. I really enjoyed it when they finally got together.