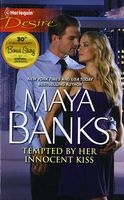 Series: Pregnancy and Passion (Book 3)
Devon Carter was her first; now newly wed Ashley wants their passion to last. But her dreams of true love are crushed by the discovery that their marriage is another of Daddy's business deals. Her strategy: act the part of perfect wife and make Devon love her.
But Devon misses the bubbly, no-holds-barred woman his wife used to be. Who is this Ashley with the steely demeanor of a society wife? And will he find a way to rekindle the fire in her eyes...especially now that she's pregnant?
Good book. I really liked Ashley. She was such a cheerful, enthusiastic person. I thought that she was exactly what Devon needed. I liked the fact that Devon hadn't wanted to deceive her. I thought her dad had his heart in the right place, wanting to make sure she was taken care of, but his execution stunk. I could see that Ashley was wiggling into Devon's heart, but he didn't realize what it meant. He just kept feeling off balance and blamed her for it. When she found out about the deal, he went after her for all those qualities. She then tried to change to get him to love her. When he finally realized what he had done, he knew he had to fix it. I loved his "go big or go home" moment. I'm looking forward to Cam's story next.