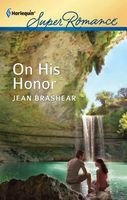 Series: MacAllisters (Book 2)
Detective JD Cameron is on to something big. He's got evidence of a human-trafficking ring operating here in Austin, Texas. And he's targeted one guy as his way into the ring. But how can JD get close enough without alerting the suspect?

The solution comes with actress Violet James. In town for personal reasons, she needs a bodyguard, and JD is perfect for the job. But this simple assignment quickly changes. An unexpected and powerful connection develops between Violet and JD -- one that can't be ignored. Not only is it jeopardizing his objectivity, he's also aware he's not telling her the truth. Confessing all risks his career, but not confessing risks so much more.
Very good book. I really liked both JD and Violet. Violet had come to Austin to hide out and recover from her divorce from a guy who betrayed her. She was staying at Hotel Serenity (from A Texas Chance) and starting to feel better, but needing to get out. Because she was so well known, Sophie suggested her friend JD act as a bodyguard for her. JD was thrilled to do it because Violet's friend Avery was under investigation and this would give him a chance to get close without giving anything away. As soon as they started spending time together, JD realized he was in trouble. He liked her - a lot - and the guilt he felt was killing him. He saw the real Violet, a kind and caring woman who enjoyed the simple things. He also saw no future for them since their lives were so different. I really enjoyed watching them have fun on the hikes, and watching the bats. Violet was really enjoying spending time with someone who saw her, not just the star. When she found out what was going on she was devastated. When everything went down at the club she realized just how much danger she was in. Both of them had so much pain to deal with, and so much guilt it took them some time apart to come to grips with it. I loved the final scene with the photographer.