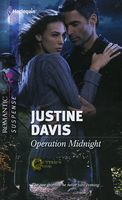 Series: Cutter's Code (Book 1)
Being spirited away—with her dog, Cutter—by armed men in a black helicopter is the last thing Hayley Cole ever expects. And why is her usually savvy dog so friendly toward their lean, dark-haired leader? She's determined to escape. Unfortunately, Quinn with his intense, searching gaze is always three steps ahead—and much, much too close….
For Quinn Foxworth, control equals safety. Taking Hayley is the only way his undercover witness-protection team can protect her and their client. But convincing her he's one of the good guys is easier than guarding himself from her innocent courage. And with danger closing in, can he risk letting Hayley into his heart for good?
Good book. When Hayley was taken, she was naturally afraid of what was going on. I really liked the way she kept pretty calm through the whole thing. She tried very hard to find out what was going on, and ended up being friendly with all the guys except Quinn. Quinn is very intense, and as leader doesn't give up any information. He does find himself enjoying Hayley's company, which is unique itself. I liked the way her attitude and conversation would amuse him, which startled him because it so rarely happened. I also liked the way Hayley jumped in and helped during the two attacks. I loved the dog -- he is so cool with the way he took to Quinn and helped the team with their mission. I am really looking forward to seeing more of him and also the rest of the team.