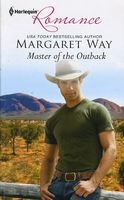 Tall, brooding, powerful...and standing in her way!

Writer Genevieve Grenville is trembling with excitement as she heads out to Djangala cattle station to finally uncover the mystery that haunts her family. But standing in her way is brooding cattle baron Bret Trevelyan....


Bret might look at her with temptation in his eyes, but he'll do everything possible to stop her digging up the past. Even at a distance, Bret radiates a powerful charisma, but up close, in the cattle baron's Outback world, he is the master. If she's caught snooping, Genevieve will have to answer to him!
Good book. Genevieve went to Djangala to be the ghostwriter on a history of the Trevelyan family. This suited her very well, as one of her relatives had died there under mysterious circumstances and she wanted to find out more about it. When she arrived she felt an immediate attraction to, and connection with, Bret Trevelyan. Neither of them welcomed it, as both had been betrayed in the past. She also knew that if her connection to Catherine came out, he would be furious. I really enjoyed the storyline, with the search into the past for the book, and the psychic connections Genevieve felt there on the station. My favorites parts of the book were the marvelous descriptions of the land.