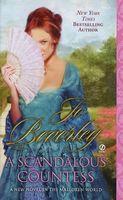 Series: Malloren (Book 12)
Lady May is back. And so is the scandal that sent her tumbling from her position as the toast of London, when her husband, the Earl of Maybury, was killed in a duel. Even a year of mourning hasn't quieted the rumors of her infidelity.

Georgia Maybury is determined to regain her position in the beau monde, but a scarred ex-naval officer threatens her plans. Impoverished Lord Dracy has nothing to offer her - except a passion that she's never before experienced...


But when new scandals stir and secrets unravel, their future - and even their lives - is suddenly at risk.
Very good book. At the beginning, I didn't care much for Georgia. She was selfish and spoiled, and intent only on finding a new husband that would keep her in style. I did like Dracy from the beginning. He was determined to bring his estate back from ruin, and had a plan to make it happen. When Georgia's father comes to him and offers his daughter in marriage, he is tempted. Not just for the money, but for Georgia herself. Georgia has been tasked by her parents to help Dracy fit in - she knows nothing about the offer. As she tries to regain her life in the beau monde, the old scandal is brought back to life. Dracy is there through it all, helping to protect her, and trying to find out who is causing the trouble. As time goes on, more information comes out, and both of them are threatened. I really liked the way that Dracy took care of Georgia. I was also glad to see her mature as the book went on, and see how she came to care for him. I loved seeing the way Dracy's mind worked to puzzle out who was causing the trouble.