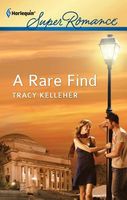 Series: School Ties (Book 2)
How does a rule-abiding, accomplished woman fall for a rebel college dropout? It's something rare-books curator Penelope Bigelow is still trying to figure out! Regardless of what logic she tries to use, the proof remains that when celebrity chef Nicholas Rheinhardt is around, her composure takes a vacation. With all the reunion festivities, it's hard to avoid him...especially since he needs her expertise in antiquities for an upcoming episode of his cable travel show.

Too bad the past isn't what Penelope's focusing on when she's with Nick. There's more to him than his infamous reputation -- and that intrigues her. Penelope isn't looking for perfection...even though Nick's coming very close!
This was a good book. I enjoyed going back to Grantham during Reunions and seeing familiar faces. I loved Penelope. She was a delightfully quirky character. She was honest and up front about things. She wasn't particularly comfortable in social situations, but she was very good at reading people. I really liked her interactions with Press, treating him like a capable adult, even though most people didn't look past the careless surface he put on. She was also very good with Nick's daughter. Nick was a somewhat tougher character to like. On the surface he was pretty selfish and also seemed like he didn't have much substance. During his time in Grantham I saw a better guy developing. I liked that he was becoming more of a father to his daughter, even though he made a bunch of mistakes in the process. I also liked the way he stood up for Penelope during the dinner with her parents. He did a pretty good job of redeeming himself at the end. I have to say that it was obvious to me that the author modeled Nick after Anthony Bourdain of "No Reservations". From the name of the channel "Voyage Channel" to the massage episode to the cameraman knocking down the shelf of pottery, it was No Reservations all the way. I'm looking forward to the next book - I'm thinking it's probably about Mimi.