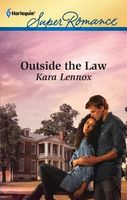 Series: Project Justice (Book 4)
Mitch Delacroix is everything Beth McClelland likes in a man. Smart, good-looking and so very safe. She's this close to making her intentions known.

Then Mitch is accused of murdering his best friend years ago. Suddenly his rebel past -- including the criminal record -- is revealed to everyone.


But something doesn't fit -- the Mitch she knows couldn't possibly kill anyone. She's determined to find the truth. As a forensics expert, she's used to uncovering people's secrets. Yet she never expected Mitch could be hiding so many. Despite rising doubts, she'll help clear his name. Even if what she discovers could threaten their relationship...and their lives.
Very good book. I liked Mitch in the previous books. He seemed like such a sweet, nerdy kind of guy. And he is -- but he's also much more. When he's accused of murdering his best friend years ago, Beth knows there's no way he could have done it. She and the rest of the team start investigating to clear his name. But as more things from his past come to light, she begins to think she doesn't know him at all. Beth irritated me just a bit. I know she had issues with violence because of her abusive ex-boyfriend, but it bugged me that she couldn't see the differences between him and Mitch's MMA activities. I think Mitch could have avoided some of his problems if he hadn't kept that part of his life secret. I loved the conclusion, and the epilogue was fantastic.