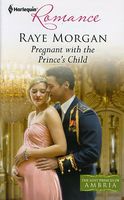 Series: Lost Princes of Ambria (Book 5)
Janis and Mykal married on a wing and a prayer, and were blissfully happy. But the cold, hard truth tore them apart -- descended from two warring families, how could their love survive?

Now they're further apart than ever but Mykal's discovered he's a prince! Janis yearns to tell him that she's carrying his baby. In the fairy tale, Cinderella gets her man, but in the real world can a girl from the roughest end of town become a princess? Janis knows she owes it to her unborn baby to try....
Good book. Mykal is suffering from amnesia and doesn't remember Janis. She has come to him to find out why he didn't try to get her out of the prison camp. There are a lot of things going on. Mykal's brother is trying to keep him sedated all the time. Mykal has been identified as one of the lost princes. Janis feels like there is no hope for the two of them now because of who her family is. I liked the way that Mykal was so sure that Janis is a good person and not the one drugging him, and that her family doesn't matter to their future. I also liked the way that Janis was determined to keep him safe, even though she knew there was no future for them. I'm looking forward to the final book.