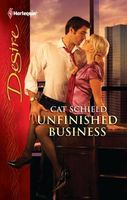 When it comes to Rachel Lansing, C.O.O. Maxwell Case makes an exception to his take-no-prisoners approach. He'll hold this beauty hostage as his assistant and settle old scores from their brief affair five years ago. The pleasure will be all his.

Rachel smells blackmail. But with her ex-husband extorting big money from her, she needs Max as a client to keep her employment agency alive. So she hunkers down as his secretary. Soon their reignited passion burns away the clouds of mystery surrounding her past. Will their intimacy survive her secrets this time?
Good book. This story dealt with Max, who held on to feelings of betrayal without delving into those betrayals and the reasons behind them. It also dealt with Rachel, who took her independence and protectiveness to a level that kept her from asking for or accepting help from anyone. When Rachel went to Max's company to set up a temporary employee to replace Max's assistant, he decided only she would do. This would give him a chance to get her out of his system from their brief affair five years earlier. Rachel had no choice but to take the job, as she was being threatened by her ex-husband. She refused to tell Max about it, even though they gave in to their passions once again. Max found himself thinking about a future with her, even though he still didn't think he could trust her. Rachel refused to think of a future while she still had the problems with her ex hanging over her. I was glad to see how they finally worked things out.